About Me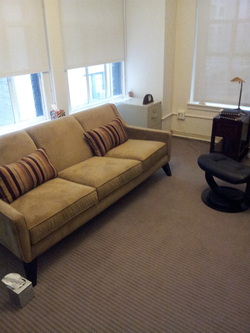 My Approach:
My therapeutic style is primarily psychodynamic, meaning that it is insight-oriented and based on a belief that people can get symptom relief and positively change their lives by working through issues, making connections between experiences (particularly childhood experience), recognizing defenses and problematic behavior, and building a strong relationship with a therapist in which to explore all of the above.
I view you as the expert on yourself and our relationship as a partnership designed to help you be more fully yourself by understanding where you come from and how to handle the challenges that get in the way of you living the life you want.
Treatment Options:
I provide individual psychotherapy to adults and adolescents, as well as couple therapy. I am open to involving family/partners as desired.
Credentials:
I have clinical licensure in the state of New York and have a Master's degree in Social Work from Hunter College School of Social Work, as well as a Certificate of Specialization in Children, Youth, and Families. I also have a Bachelor's degree from NYU. I have completed post-graduate training in Intensive Psychoanalytic Psychotherapy at the William Alanson White Institute, where I have also received extensive training in Psychoanalysis.
Publications:
Seeking the Hiding: Working Through Parental Infidelity,
Clinical Social Work Journal (2016).
"'I Am Not Who I Thought I Was': Using Grief Work to Address Disrupted Identity in Hispanic Adolescent Immigrants,"
Clinical Social Work Journal (2013).
Contemporary Psychoanalysis in Action- Psychology Today Blog :
Debunking the Myth of Laziness
http://tinyurl.com/o9v9f5c
Key to Productive Conflict
http://tinyurl.com/zle7wv8
Fees:
My fee is $250 for a 50 min therapy session. I accept Blue Cross Blue Shield. If you have a different insurance that I do not accept, I would be happy to help you with out-of-network reimbursement.
​
Locations:
119 W. 57th St
Suite 516
New York, NY 10019
Hours: Mon-Fri 8AM - 9PM (hours vary depending on the day)
Although the above are my office hours, you can feel free to call or email me at other times.
---